(Last Updated On: October 17, 2017)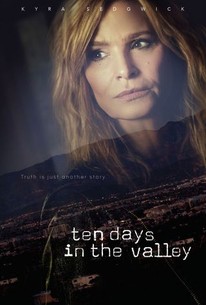 83%
Average Rating: 8.75/10
Season Reviews: 6
Fresh: 5
Rotten: 1
Tv Season Info
Season premieres on Oct 1, 2017
A TV producer's daughter goes missing in the midst of a tempestuous separation from her husband, leading to the implosion of her life and career.
Genre:

Drama

Network:

ABC

Premiere Date:

Oct 1, 2017

Creator:

Tassie Cameron

Exec. Producers:

Tassie Cameron, Jill Littman, Kyra Sedgwick, David Ellison, Dana Goldberg, Marcy Ross, Sherry White
Ten Days in THE Valley Episode subtitles:
Note: Bookmark this page and be updated when we post new Episodes Subtitles.
Critic Reviews for Ten Days in the Valley: Season 1
All Critics (6) | Top Critics (4) | Fresh (5) | Rotten (1)
[A] tense, intriguing thriller.
September 27, 2017 | Rating: 4/4 | Full Review…
Bill Brioux
Calgary Senior
… soapy and ridiculous-yet-totally-watchable thriller…
September 18, 2017 | Full Review…
Tierney Bricker
E! Online
The show's appeal rests on the fact that Jane is an enigma. As quick as she is to judge, to insist, to order, to remonstrate, who is she really? Sedgwick makes us want to know, even if we don't always think we much like the character.
September 29, 2017 | Rating: 3/4 | Full Review…
David Wiegand
San Francisco Chronicle
Top Critic
Sedgwick is a strong choice for the role and succeeds in it, but her talents aren't quite enough to redeem the series…
September 28, 2017 | Full Review…
Kelly Lawler
USA Today
Top Critic
It's an instantly engrossing show, made more tense by Sedgwick's all-in performance of a woman losing a precarious grip on things.
September 25, 2017 | Full Review…
Hank Stuever
Washington Post
Top Critic
At first, the series has the air and style of a strong but conventional mystery but then it gets tangled, truly chilling and, indeed, thoughtful, as the two worlds – cop-show entertainment and motherhood – become horribly entangled.
September 15, 2017 | Full Review…
John Doyle
Globe and Mail
Top Critic
View All Critic Reviews (6)
Content and reviews from: https://www.rottentomatoes.com/tv/ten_days_in_the_valley/s01/.