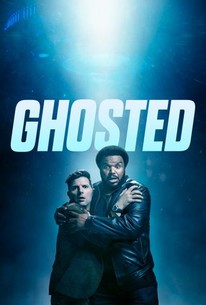 Average Rating: 6.1/10
Tv Season Info
Season premieres on Oct 1, 2017
A cynic and a believer in the paranormal are recruited to investigate "unexplained" activities in Los Angeles.
Genre:

Comedy

Network:

FOX

Premiere Date:

Oct 1, 2017

Exec. Producers:

Jonathan Krisel, Adam Scott, Craig Robinson, Naomi Sablan, Tom Gormican, Oly Obst, Mark Schulman, Kevin Etten
Episode Subtitles:
Note: Bookmark this Page to be Updated on latest Subtitle releases for this series!
Critic Reviews for Ghosted: Season 1
Ghosted includes a few halfway decent special effects, but not much else, en route to the inevitable.
September 28, 2017 | Rating: C- | Full Review…
Ed Bark
Uncle Barky
Top Critic
The zanier "Ghosted" gets, the better.
September 26, 2017 | Full Review…

Ben Travers
indieWire
Top Critic
Ghosted looks to dabble just enough in X-Files-style darkness to give it some edge in the increasingly crowded comedy landscape. Stack that against the humor and the talent, and it looks to be a winning formula.
September 29, 2017 | Rating: 7/10 | Full Review…
Trent Moore
Paste Magazine
It's funny, it's bromantic, and it's just a little bit insane in the best way.
September 18, 2017 | Full Review…
Ghosted, for now, clumsily coasts on the chemistry between its two main stars.
July 21, 2017 | Rating: 6.5/10 | Full Review…
Scott and Robinson have a great chemistry as the "believer" nerd and skeptical sleuth, and their capers have a Beverly Hills Cop energy to them (even accompanied by a Harold Faltermeyer-like score).
June 20, 2017 | Full Review…
Matt Webb Mitovich
TV Line
further reviews:
Fans of Adam Scott and Craig Robinson, among whose ranks I include myself, will be tickled to see them brought together in Ghosted, a show that puts an engaging twist on the odd-couple comedy, namely, the members of this couple know what they're doing.
September 29, 2017 | Full Review…

John Anderson
Wall Street Journal
Top Critic
The script is loose, chatty and casual, but it's the chemistry between Scott and Robinson that seals the deal on the comedy.
September 29, 2017 | Rating: 3/4 | Full Review…
David Wiegand
San Francisco Chronicle
Top Critic
Fans of both comedians — and fans of spoofs — will likely find enough to keep them amused with Ghosted.
September 28, 2017 | Full Review…
Sonia Saraiya
Variety
Top Critic
The jokes are flat (or absent), and the chemistry between the two men is regrettably nonexistent.
September 25, 2017 | Full Review…
Hank Stuever
Washington Post
Top Critic
View All Critic Reviews (11)