(Last Updated On: October 14, 2017)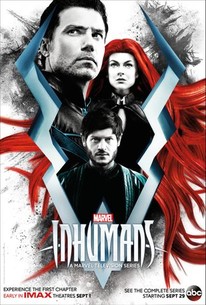 Critics Consensus: Marvel's Inhumans sets a new low standard for the MCU with an unimaginative narrative, dull design work, weak characters, and disengaging soapy melodrama.
Tv Season Info
"Marvel's Inhumans" explores the never-before-told epic adventure of the royal family including Black Bolt, the enigmatic, commanding King of the Inhumans, with a voice so powerful that the slightest whisper can destroy a city.
After the Royal Family of Inhumans is splintered by a military coup, they barely escape to Hawaii where they are greeted with surprising interactions with the lush world and humanity around them. Now they must find a way to reunite with each other and return to their home before their way of life is destroyed forever.
Genre:

Action & Adventure

Network:

ABC

Premiere Date:

Sep 27, 2017

Exec. Producers:

Scott Buck, Jeph Loeb, Jim Chory
 Episode subtitles:
Pilot – Download Subtitle<<
2. Those Who Would Destroy Us. download subs >>
3. Divide and Conquer. Download srt sub <<
4. Make Way for…Medusa.  Download srt <<
Note: Bookmark this Page to be Updated on latest Subtitle releases for this series!
Criticisms and Reviews
Despite special effects up the wazoo, it's utterly devoid of magic or wonder.
September 28, 2017 | Rating: 1/4 | Full Review…
Diane Werts
Newsday
Top Critic
Well, at least Iwan Rheon is back where he belongs.
September 28, 2017 | Rating: C | Full Review…
Ed Bark
Uncle Barky
Top Critic
Inhumans is legitimately the worst Marvel adaptation of the year (yes, even beating out Iron Fist). In fact, as far as terrible Marvel adaptations go, you might have to go all the way back to Roger Corman's unreleased 1994 Fantastic Four film to best it.
September 6, 2017 | Rating: C- | Full Review…

Liz Shannon Miller
indieWire
Top Critic
Perhaps, if nothing else, the disaster that is the pilot of ABC's Marvel's Inhumans will dissuade network executives from the out-of-control trend of superhero shows. "Inhumans" is by far the worst yet.
September 29, 2017 | Full Review…
Rob Owen
Pittsburgh Post-Gazette
Inhumans is shoddy, cheap dreck.
September 28, 2017 | Rating: D | Full Review…
Mark A. Perigard
Boston Herald
Further reviews:
With each passing minute, Inhumans feels slower, dumber, and emptier.
September 28, 2017 | Full Review…
I don't really know what else to say: For me, this thing's a total lemon.
September 28, 2017 | Rating: 2/10 | Full Review…
Who and what we're supposed to be rooting for is maybe the biggest flaw in a series of insurmountable flaws and a crucial bit of storytelling Buck was unable to crack.
September 28, 2017 | Full Review…
Dan Fienberg
Hollywood Reporter
Top Critic
Inhumans flounders, trying to make the best of a dodgy premise, and looks like the worst Marvel show out there.
September 28, 2017 | Full Review…
Mike Hale
New York Times
Top Critic
And while it's already cringe-worthy watching characters trying to converse with the mute wall that is Black Bolt, it's made even worse with the less-than-stellar CGI and clunky dialogue.
September 28, 2017 | Full Review…
Chelsea Tatham
Tampa Bay Times
View All Critic Reviews (28)
Content and reviews from: https://www.rottentomatoes.com/tv/marvel_s_the_inhumans/s01/.