(Last Updated On: October 17, 2017)
Wisdom of the Crowd Episode subtitles.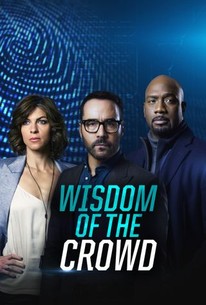 Tv Season Info
Season premieres on Oct 1, 2017
A tech innovator creates a cutting-edge, crowd-sourcing hub to solve his daughter's murder and to revolutionize crime solving in San Francisco.
Genre:

Drama

Network:

CBS

Premiere Date:

Oct 1, 2017

Exec. Producers:

Ted Humphrey, Avi Nir, Peter Traugott, Rachel Kaplan, Dror Mishani, Shira Hadad
Episode subtitles:
Episode 1 – Pilot – | Download Subtitle file <<
2. Episode 2  | Download Srt file
3. Episode 3  | Download Srt file
Others Coming soon! Be patient and bookmark this page while we upload it.
Note: Bookmark this Page to be Updated on latest Subtitle releases for this series!
Critic Reviews for Wisdom of the Crowd: Season 1
All Critics (4) | Top Critics (3) | Fresh (1) | Rotten (3)
Wisdom of the Crowd has cleverly tapped into some timely topics to explore in the series, including questions of privacy and ethics in the tech age.
September 29, 2017 | Full Review…
Rob Lowman
Los Angeles Daily News
Piven and Jones are wasted in formulaic predictability.
September 29, 2017 | Rating: 2/4 | Full Review…
David Wiegand
San Francisco Chronicle
Top Critic
Lousy idea, lousy show.
September 25, 2017 | Full Review…
Hank Stuever
Washington Post
Top Critic
Darker edges aside, it's still another CBS show about people clumped around computer screens.
September 6, 2017 | Full Review…
Erik Adams
AV Club
Top Critic
View All Critic Reviews (4)
Content and reviews from: https://www.rottentomatoes.com/tv/wisdom_of_the_crowd/s01/.