Download The Gifted: Season 1 All Episodes  Srt English Subtitles.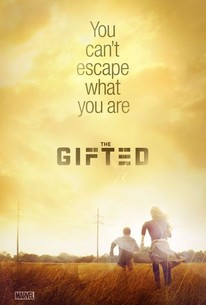 82%
Average Rating: 6.5/10
Season Reviews: 11
Fresh: 9
Rotten: 2
Tv Season Info
Season premieres on Oct 2, 2017.
Family adventure series THE GIFTED, from 20th Century Fox Television in association with Marvel Television, tells the story of a suburban couple whose ordinary lives are rocked by the sudden discovery that their children possess mutant powers. Forced to go on the run from a hostile government, the family joins up with an underground network of mutants and must fight to survive.
Genre:

Drama

Network:

FOX

Premiere Date:

Oct 2, 2017

Creator:

Matt Nix

Exec. Producers:

Jim Chory, Simon Kinberg, Jeph Loeb, Matt Nix, Lauren Shuler Donner, Bryan Singer
Episode 1, 2 subtitles.
Note: Bookmark this page and be Updated when we post new Episodes Subtitles for this.
Critic Reviews for The Gifted: Season 1
All Critics (11) | Top Critics (5) | Fresh (9) | Rotten (2)
"The Gifted" offers impressive special effects, topical conflicts and poignant acting as it asks: What would you do for your children?
September 29, 2017 | Full Review…
Hal Boedeker
Orlando Sentinel
Top Critic
Viewers have seen this all before so many times before that The Gift feels just ordinary.
September 29, 2017 | Full Review…
Rob Lowman
Los Angeles Daily News
The pilot for Fox's The Gifted is an adrenaline-propelled hour.
September 29, 2017 | Full Review…
Rob Owen
Pittsburgh Post-Gazette
It may not be as thought-provoking as Legion, but it doesn't try to be. The Gifted just wants to be an entertaining show in the world of the X-Men, and that it manages to do that without any actual A-list X-Men is a win all by itself.
September 27, 2017 | Rating: 8/10 | Full Review…
There's every reason to believe The Gifted can become something big. A show that can spawn a dozen shows.
September 25, 2017 | Full Review…
The real trick will be how well the show can sustain its cat-and-mouse game, while avoiding the pitfalls that go with overplaying the use of mutants as a surrogate for persecuted minorities, as well as a metaphor for teens feeling like outcasts.
September 29, 2017 | Full Review…
Brian Lowry
CNN.com
Top Critic
Even More Reviews:
The Gifted is a semi-dead asteroid.
September 29, 2017 | Rating: 2/4 | Full Review…
David Wiegand
San Francisco Chronicle
Top Critic
The family members, rounded out by Amy Acker as Mom, are convincingly sweet with each other – the domestic business is as well-handled as the fantastical stuff. It's nice to see!
September 28, 2017 | Full Review…
Robert Lloyd
Los Angeles Times
Top Critic
… The Gifted pilot was entertaining and intriguing enough for me to move on to episode two. Bring in more familiar characters with easy TV powers and I'll be happy.
September 18, 2017 | Full Review…
A Marvel universe show, this fantasy-drama is infinitely better than expected.
September 15, 2017 | Full Review…
John Doyle
Globe and Mail
Top Critic
View All Critic Reviews (11)
Content and reviews from: https://www.rottentomatoes.com/tv/the_gifted/s01/.