White Famous: Season 1
(2017)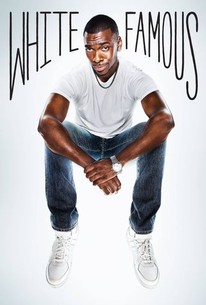 Tv Season Info
A black comedian whose career is on the rise adjusts to becoming "white famous."
Critic Reviews for White Famous: Season 1
All Critics (24) | Top Critics (15) | Fresh (14) | Rotten (10)
White Famous is a middling, masculine comedy, probably worth a second look but maybe not a third.
October 19, 2017 | Full Review…

Wenlei Ma
News.com.au
Top Critic
It looks like a show that could mature into something more than it is now, with Pharoah as a sturdy building block.
October 16, 2017 | Rating: B- | Full Review…
Ed Bark
Uncle Barky
Top Critic
The self-loathing here is the type that's common to so many Hollywood satires, filled with the requisite pythons and soul crushers who keep the sausage factory conveyor belt moving. But much of this goes beyond loathing to self-lacerating.
October 15, 2017 | Full Review…
Verne Gay
Newsday
Top Critic
Like its star, White Famous has a lot of potential, but it has to stop going for shocking easy laughs and focus on the smart human story at its core.
October 15, 2017 | Full Review…
Eric Deggans
NPR
Top Critic
It's [Jay] Pharoah, though, best known for his six-season stint on SNL, who carries the action. He's droll enough, making his eyes dance at others' foolishness, but he also has an unexpected sadness about him that adds dimension to the show.
October 11, 2017 | Full Review…
Matthew Gilbert
Boston Globe
Top Critic
Irreverent, thoughtful comedy has cursing, nudity, drinking.
October 18, 2017 | Rating: 3/5 | Full Review…
Melissa Camacho
Common Sense Media
View All Critic Reviews (24)
**Note: Bookmark this page to Know when more subtitles for this Series becomes available on Netraptor subtitles.
Reviews are culled from: Rotten Tomatoes.